Author: Katie Conroy
Getting ready to sell your home? Prior to putting your property on the market, there are dozens of factors to consider. From getting a home appraisal to finding your new residence, the moving process can be complex. One of the most important first steps to take is to consider which home improvements will make your house more valuable and desirable to prospective buyers.
Not sure where to get started? The experts at Caribhomes recommend several key improvements to make before putting your property on the market.
Repair anything that is broken
Despite the temptation to dive into exciting new updates, fix anything that is in need of repair as your first step. This can include burnt-out lightbulbs, loose flooring, or a broken garage door. Although these are not fun items to work on, they are an absolute necessity.
Still not convinced? Consider the appearance of your home through the eyes of a potential buyer. If you were thinking about buying your own home, what would stand out most? Are there aspects that detract from the overall look and feel of the property? If you've answered "yes" to this question, correct these items before moving forward with less necessary renovations.
Make security upgrades
In today's unpredictable world climate, security features are becoming more desirable than ever before. Keeping one's family safe and secure is a priority of nearly every home buyer. When reviewing your home's security features, be sure to check the functionality of all locks on doors and windows. If you haven't already done so, it may also be wise to invest in a security system.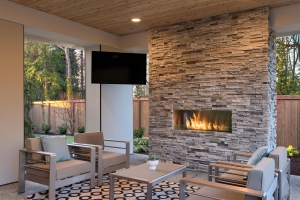 Add or enhance your outdoor living space
Among all of the home improvements that you can invest in, one that brings the highest ROI is the creation of outdoor living space. Upgrades and renovations can also prove to be a worthwhile investment when looking to increase your property's overall value.
Small, medium, and large outdoor spaces can be transformed into a beautiful oasis. Explore installation options for awnings, glass terraces, spacious patios, gardens, and outdoor rooms. Your goal should be to make your existing space as comfortable and attractive as possible. Work with local contractors to design an outdoor living area that is ideal for gatherings and leisure time. That often means ensuring you have a proper space created through leveling the ground, which you can begin by searching for 'grading services near me'.
Hire contractors to make minor or major kitchen upgrades
Another home upgrade that can sharply increase the value of your home is minor and major kitchen renovations. Changing out countertops, cabinets, flooring, appliances, and your sink can completely alter the look and feel of your kitchen space. If your kitchen is relatively outdated, this is an especially wise improvement project to take on.
Update your bathroom with the latest features
Finally, bathroom renovations are another high-value modification. Potential home buyers critically evaluate the look and features of each bathroom. From your master bathroom to your guest bathroom, update as many elements as your budget allows. Replace outdated sinks with innovative new designs, add new and trendy flooring, and even consider installing a new bath and/or shower. For a bit of inspiration, visit home design websites. You can also create a Pinterest board to assemble a mood board of your favorite styles.
Rather than leaving your home as it currently is, make strategic upgrades prior to listing it for sale. Doing so can not only help your home sell more quickly, but it can also add thousands to your final sale price. Also, rather than trying to do everything yourself, enlist the help of expert contractors. Ask for recommendations from friends, family, and colleagues for the best results.
This article is brought to you by Caribhomes: Everything Real Estate in the Caribbean. Whether you are looking to buy, sell, or rent, Caribhomes in collaboration with our partners give you access to proficient and reliable services to ensure that you can find the support and professional advice for all your real estate needs in one place. For more information, contact us today!